Our purpose
The power of independence
Nurturing and celebrating the early stages of independence in every child is at the heart of doddl. We believe, before children can learn to do other things for themselves, they must first learn to eat independently. So we have developed award-winning feeding products that help unleash the independence in every child. And why does that matter? Because independent children can blossom and grow to be inspired adults who have the ability to inspire the world.
2013
Mom has idea for designing first technologically advanced utensils for toddlers.
Born out of stressful and messy mealtimes with her children, doddl Founder Cat longed for a more enjoyable and relaxing experience. While on holiday with her family, her daughter's fork handle broke, but she proceeded to use the stubby utensil end much more effectively. In that moment Cat envisioned a toddler flatware set that was specifically engineered to help young children succeed immediately, whilst developing critical motor skills.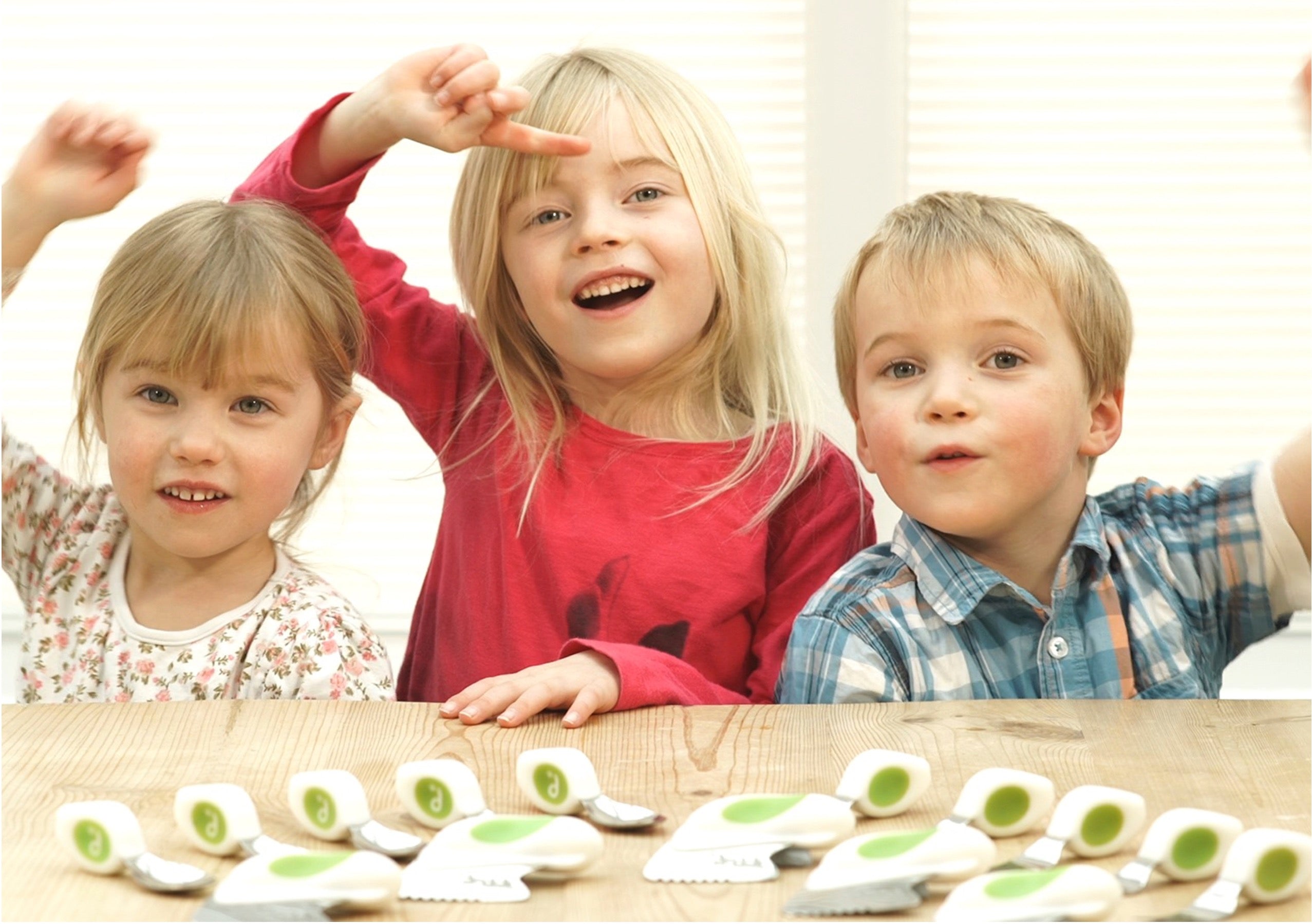 2015
doddl launches with a successful crowdfunding campaign.
Finalist for Great British Inventors Project.
2017
doddl available in major retail (UK) and sells to over 20 countries.
Now available in JoJo Maman Bebe & Boots in the UK and is sold in Australia, France, Poland, Lithuania and more.
2018
Multi-award-winning doddl launches successfully in Japan and Taiwan.
Through new partnerships established in Japan and Taiwan doddl launches successfully in to these 2 key markets. doddl is featured on a popular Taiwanese reality TV show.
2019
doddl baby utensils launch to market.
Following on from the success of doddl toddler utensils, it was time to design a solution for babies from 6 months. Modelled on the original doddl design but re-engineered for a babies development, doddl baby utensils were born.
2021
Celebrity fans share their doddl experience and the doddl plate launches.
Having purchased doddl, Joe Wicks, Gemma Atkinson, Lucy Mecklenburgh, Deliciously Ella, Camilla Thurlow and Kate Lawler share their doddl experiences. The doddl plate, with clever design features becomes the newest product in the doddl range.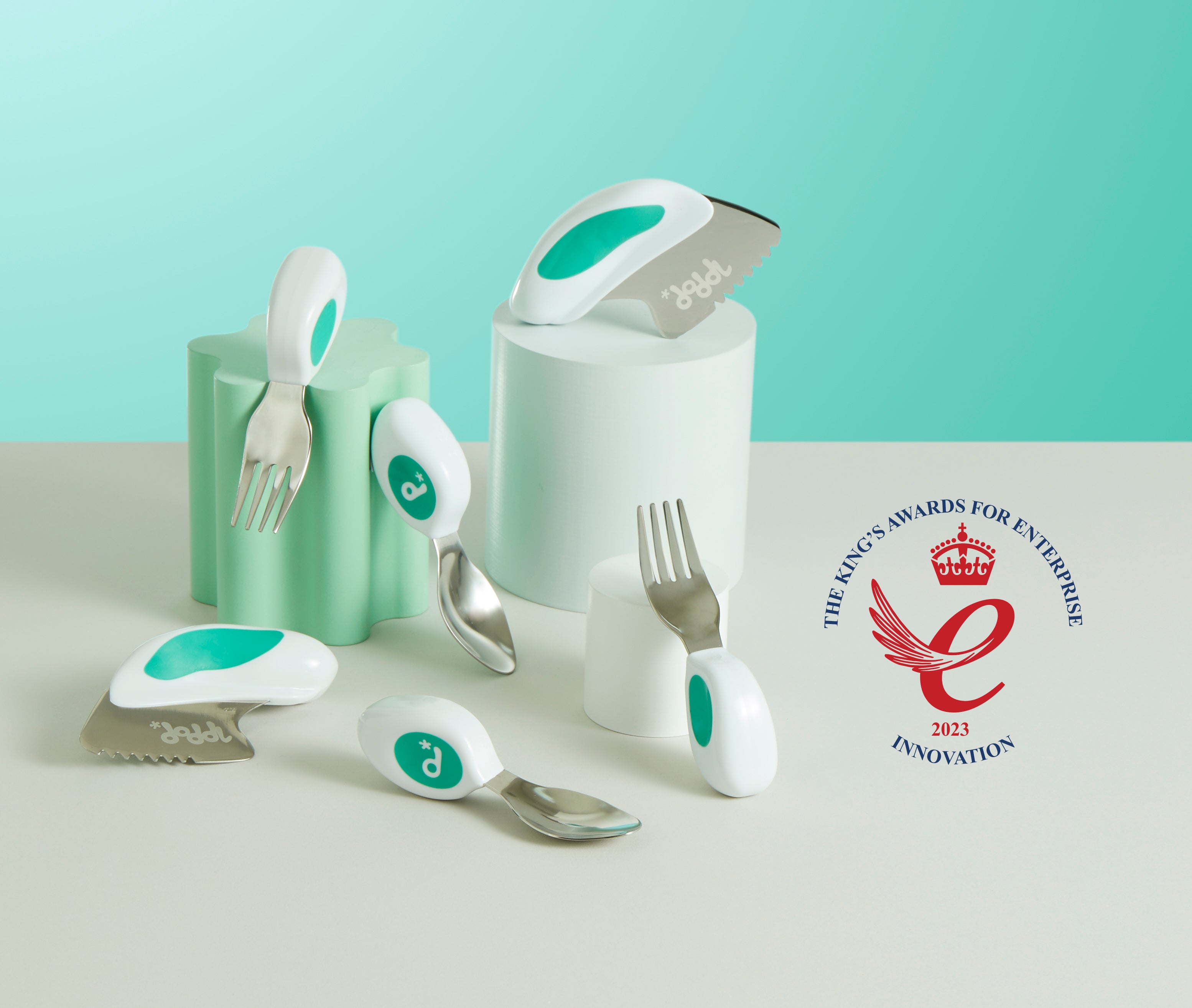 2023
Announced as winner of The Kings Award for Innovation and a world's first* the doddl 2-in-1 bowl launches
The King's Award for Enterprise -Innovation recognises a select number of businesses across the UK who have demostrated true innovation and commercial success over the past 5 years. On the back of this accolade, doddl launches a world's first, the doddl 2-in-1 bowl. *patent pending
"Beautifully designed, our products are engineered specifically for babies and young children, to make eating independently easy, creating the kind of mealtimes I always wanted for my children"
Sustainability
At doddl we care about the future of our children.
It's at the heart of what we do. That means we take our responsibility to look after the future of the planet seriously. We are striving to make doddl as genuinely eco-friendly as possible, without impacting the unique benefits that our products offer. For us, this is an evolution that we are firmly committed to. Find out more
Inspiring children in readiness for their future
At doddl we believe in nurturing a child's development.
We support and fund 2benterprising, an organization partnering with schools to inspire the next generation of ambitious, healthy, ethical and enterprising citizens. To help young children develop the skills they need to confidently make decisions, communicate effectively and contribute positively to their community. Find out more
Embedding knowledge and expertise into all of our products
Expert led.
From the very beginning of doddl we have worked in partnership with experts from across Feeding, Child Development, Occupational Therapy & Nutrition. Their insights are embedded into doddl products and their endorsements continue to add credibility and confidence to our range. Expert Endorsements